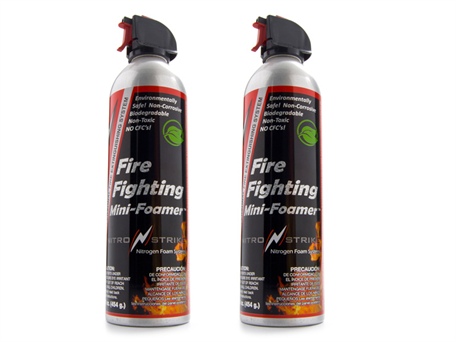 One Day, One Deal site Woot.com offers you the NitroStrike Mini-Foamer Fire Extinguisher for only $9.99 (plus $5 shipping). That's $15 for both 16 ounce fire extinguishers. It means only $7.50 per item. DealNews.com handpicked the items and posted them as one of its top featured products.
The mini-foamers are very easy to use. Just pull the tab and start squeezing. They're also safe to breathe in or in case someone accidentally swallows a small amount of the foam content. The 2-pack MF-16 model is 100% biodegradable too. The can and actuator can be both recycled. They're safe, environment friendly, CFC free, not toxic, and not corrosive.
Do you want to know more? Read this.
Your home, car, business, and camp area will find the NitroStrike Mini-Foamer Fire Extinguisher very handy so buy your items now
http://dealitem.com/Deal/3716578/NitroStrike-Fire-Extinguisher-for-10-5-s-h.aspx